Artifacts in EEG Data#
Recall that the term artifact in EEG refers to any noise in the data that can be attributed to a specific source. So eye blinks, eye movements, and muscle contractions are all types of artifacts. It is important to remove these from the data, to increase our confidence that the results we ultimately interpret are actually due to brain activity, and not these other sources.
Common physiological artifacts, including eye blinks, eye movements, and muscle contractions, have highly characteristic properties in time and frequency. Examples of each are shown below:
Eye blink#
There are a series of several eye blinks in the data below, the first at 242 s. You can see that the size of eye blink artifacts are typically on the order of 10x as large as ongoing EEG, which is why they are such a problem. Note that we have scaled the amplitude scale (y axis) of the EEG data differently than in the plots above, so that the ongoing EEG is quite flat, and the blinks stand out more clearly.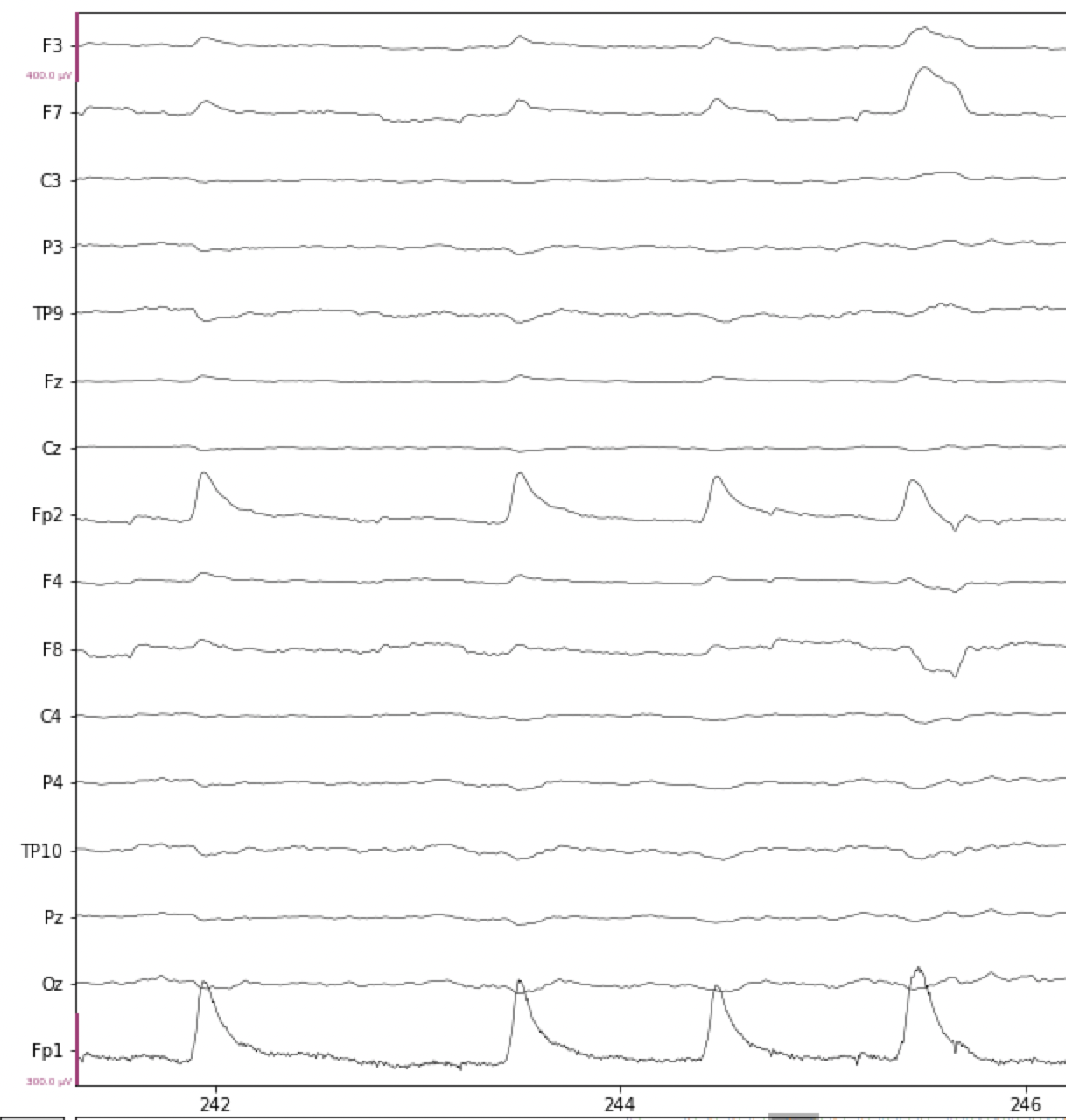 Because the artifact originates at the eyes, is is picked up most strongly by the electrodes on the forehead, Fp1 and Fp2, as well as other frontal electrodes (the ones whose labels start with F, though much smaller). The electrical potential sharply increases, then decreases, over a period of about 250-300 ms for a typical blink. The artifact actually inverts at more posterior electrodes, for example at TP9 and TP10 in the figure above. These are the characteristic properties of an eye blink artifact, which can be used to identify them.
Eye movements#
The neurons in the retina are organized in a highly oriented fashion, such that they form an electrical dipole — a source with positive and negative poles. This is exactly the kind of electrical source that EEG is good at detecting. As long as the eye's position doesn't change, the diploe created by the retina doesn't affect EEG recordings, because it is constant (not changing). However, as the eye moves to look at different locations in space, the dipole moves, and this is detected by the electrodes on the scalp. When they eyes move to the left or right, the effect on EEG electrodes is that the electrical potential will increase at frontal electrodes on one side of the head, and decrease on the other side. Which side becomes more positive or negative depends on the direction of the movement.
An example of a horizontal eye movement is shown in the figure below, overlapping the time where the vertical green line is shown (this line is an event marker, but this is irrelevant for our present purposes). At electrodes Fp1 and Fp2, the artifact looks very similar to a blink. However, note how there is a roughly "square wave" effect at electrodes F7 and F8 (and to a lesser extent, at F3 and F4), and that this goes positive at F7/F3, and negative at F8/F4. This is the hallmark of a horizontal eye movement artifact. In the example below, the horizontal eye movement is followed by two blinks. We can tell these are blinks because the polarity (direction of change) at both F7 and F8 is the same (positive/upward).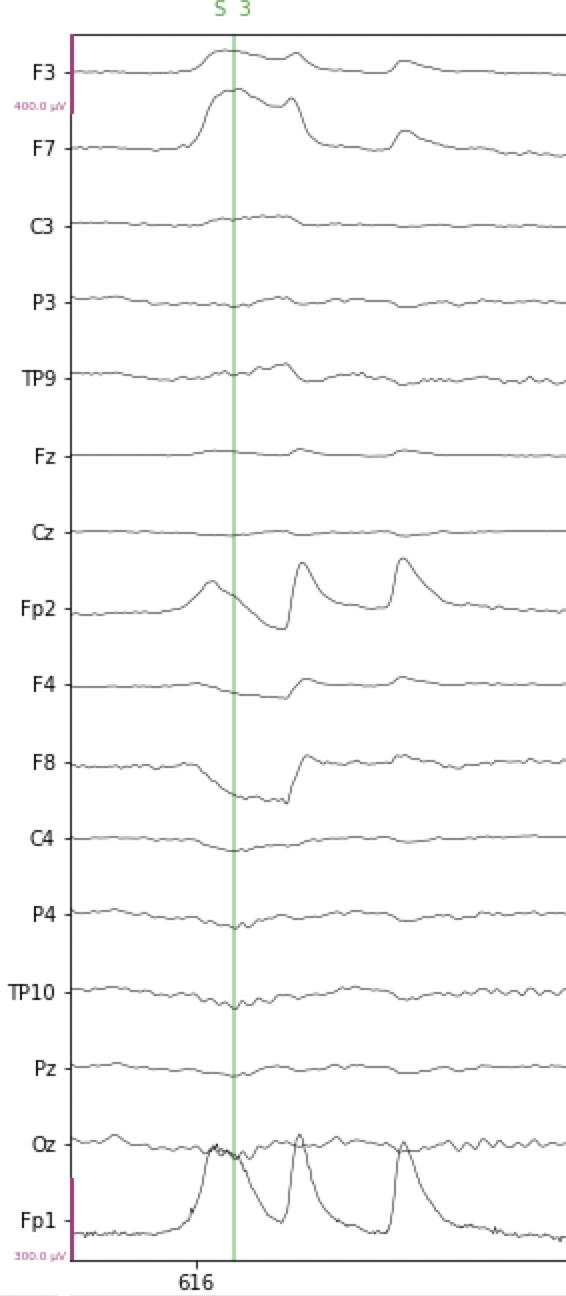 Muscle contractions#
In the figure below, note the increase in high frequency activity starting just after 872 s, especially at channels F3, F7, and TP9. This is typical of a muscle contraction, likely of the face and/or neck. Brief contractions like this are usually not a problem, but if the participant is tense throughout the experiment, or at least for extended periods, then this high frequency noise can make it more challenging to detect ERPs. Muscle contractions typically have a fairly broad frequency range, from about 20-40 Hz, which means that this artifact will be present even after the data is band-pass filtered.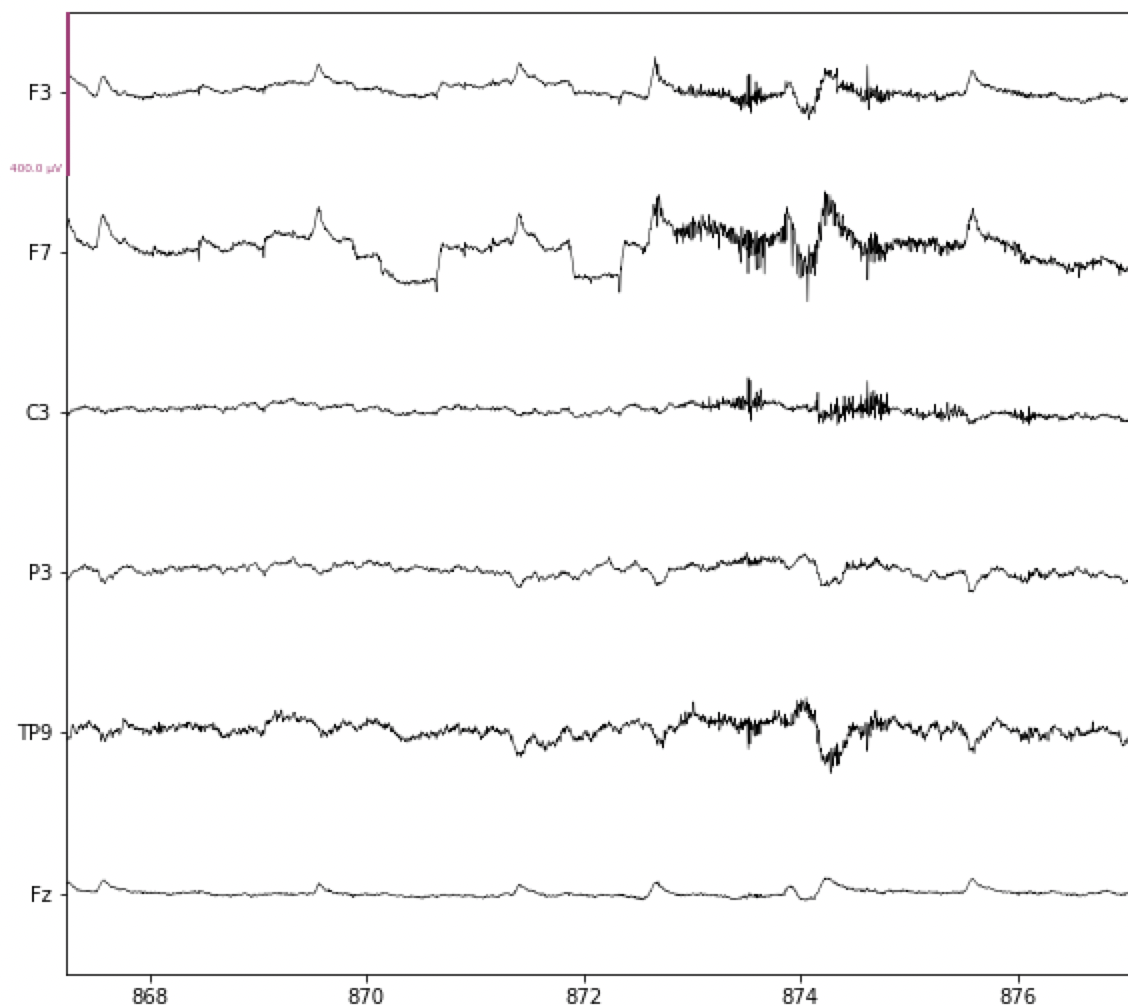 Artifact removal with Independent Components Analysis (ICA)#
ICA is a blind source separation algorithm. In other words, it can take a complex signal and separate it into mathematically independent components. Note that the term "components" here is not used in the sense of ERP components (like the N170 or N400) that were discussed earlier. Rather, in ICA components are the individual underlying signals that were mixed together during recording. So for example, in EEG each electrode will record a mixture of brain activity (which itself may comprise multiple sources within the brain, such as the activity of different brain areas) and noise (including physiological and non-physiological artifacts). ICA is capable of separating EEG from artifacts (and separating different types of artifacts) because, over time and across all of thr recording electrodes, each signal with a different source will have different spatio-temporal properties.
A nice example of using ICA, that may seem a. bit less abstract than EEG data, is audio recording. Imagine that we have two people in a room having a conversation, and there is background noise in the room such as from the ventilation system. If we have a single microphone in the room, all three signals (person A, person B, and the ventilation) will be mixed in the recording and it will be hard to separate them. However, if we have three microphones at different locations in the room, then each will pick up all three sound sources, but to different degrees depending on the location of each microphone. ICA can use the audio from all three microphones to find independent sources in the data (i.e., person A, person B, and the ventilation), based on how the sounds from each person, and the ventilation, differ systematically across the three microphones. But this only works because we have multiple independent sources (the microphones) sampling the data from different locations.
Likewise with EEG, it is necessary to have multiple electrodes (the sources) to run ICA. The maximum number of ICA components that can be derived from a data set is equal to the number of electrodes (channels) we have. However, in practice the number of independent sources in the data is lower than the number of electrodes, and we can limit the number of ICA components accordingly, as we'll see below.
In EEG, ICA has become widely used for artifact identification and removal. This is because it does a very good job of identifying ocular artifacts (blinks and eye movements), and also usually muscle artifact as well. Moreover, because the different ICA components are mathematically independent of each other, having identified which components are "noise" (such as blinks), we can remove these components from the data without affecting the other components. This means we can effectively remove the effects of ocular artifacts from the data, while preserving the EEG signals. This is usually preferable to older approaches, such as removing any trial containing an artifact from the data set completely. ICA allows us to remove artifacts while keeping all of the trials.
Filter data for ICA#
ICA is very good at capturing features of the data that explain the most variance. Recall that variance, statistically speaking, is any deviation from the mean. Blinks and eye movements are well-captured by ICA because they are so much larger than EEG, and so they contain a lot of the variance in the EEG recordings. Likewise, low-frequency drift in the data explains large amounts of variance, because of the 1/f property of EEG data discussed earlier — the lowest frequencies contain the most power. For this reason, ICA works best on data that has more low-frequency power removed than the data that we ultimately want to analyze. So we will filter the data for ICA with a 1 Hz high-pass cutoff, rather than a 0.1 Hz cutoff as we used above. A useful property of ICA is that we can compute ICA based on a more-filtered version of the data, identify the artifacts based on this, and then apply the same ICA decomposition (i.e., how ICA breaks the data down into components) to the data that were filtered as we wanted for ERP analysis. Below we do this, running the same filtering command as we did in the previous lesson, except with a different high-pass (low frequency) cut-off.
First we import MNE and load the raw data:
import

 

mne




mne

.

set_log_level

(

'error'

)

  

# reduce extraneous MNE output





# Participant ID code




p_id

 

=

 

'N400_dataset_14'




data_dir

 

=

 

'data'





raw

 

=

 

mne

.

io

.

read_raw_fif

(

data_dir

 

+

 

'/'

 

+

 

p_id

 

+

 

'-raw.fif'

,

 

preload

=

True

)



# Filter settings




ica_low_cut

 

=

 

1.0

       

# For ICA, we filter out more low-frequency power




hi_cut

  

=

 

30





raw_ica

 

=

 

raw

.

copy

()

.

filter

(

ica_low_cut

,

 

hi_cut

)



Segment data for ICA#
ICA likes to work with segments of data, rather than the continuous raw data. We call segments of EEG data epochs, a word which means "a period of time". Typically when talking about ERPs, epochs refers to the segments of data that are time-locked to experimental events of interest. Here, however, we use the term more generically to refer to any segment of EEG data. So here we will segment the entire raw data recording into a series of 1 s segments, and save these as epochs_ica.
# Break raw data into 1 s epochs




tstep

 

=

 

1.0




events_ica

 

=

 

mne

.

make_fixed_length_events

(

raw_ica

,

 

duration

=

tstep

)




epochs_ica

 

=

 

mne

.

Epochs

(

raw_ica

,

 

events_ica

,


                        

tmin

=

0.0

,

 

tmax

=

tstep

,


                        

baseline

=

None

,


                        

preload

=

True

)



Next we run a function from the autoreject package (an add-on to MNE) that will look at the data and automatically determine a threshold to use to find sections of the data that are excessively noisy. This can occur, for example, if a participant scratches their head during a recording, or sneezes, or for various other reasons. These "one-off" sources of noise can create large artifacts in the data. Since large amplitudes mean high variance, the presence of these artifacts can interfere with ICA's finding more frequent artifacts like blinks — since blinks are larger than EEG data, but smaller than these one-off sources of noise.
from

 

autoreject

 

import

 

get_rejection_threshold





reject

 

=

 

get_rejection_threshold

(

epochs_ica

);




reject



Estimating rejection dictionary for eeg

{'eeg': 0.00010817971884733591}

Save ICA#
In the next lesson we will segment our EEG data into epochs time-locked to experimental events of interest. After we do that, we will apply the ICA that we computed here to remove ocular artifacts from the epochs. So for now we will save the ICA object, which includes the bads attribute that indicates which components to reject as ocular artifacts. ICA objects have a .save() method that will create a .fif file:
ica

.

save

(

data_dir

 

+

 

'/'

 

+

 

p_id

 

+

 

'-ica.fif'

,

 
        

overwrite

=

True

);